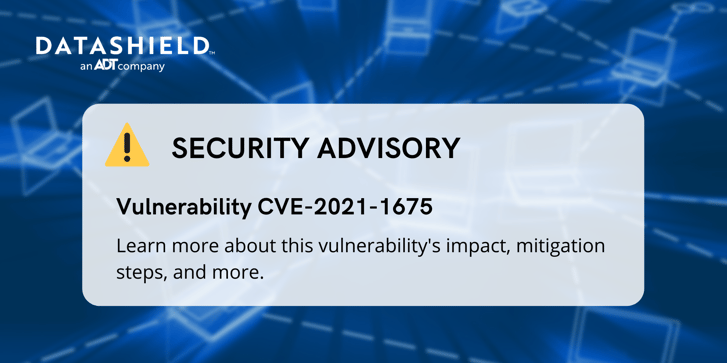 Datashield Security Advisory:
Vulnerability CVE-2021-1675
Released: June 8, 2021 | Last updated: July 2, 2021
Due to the release of a critical Windows vulnerability (CVE-2021-1675) impacting the Windows Print Spooler in conjunction with several recently leaked proof-of-concepts (PoC's), DataShield recommends applying the available Microsoft patch and disabling the Print Spooler service on all Windows domain controllers.
The "PrintNightmare" vulnerability combined with the available PoC's allows for remote code execution (RCE) with SYSTEM privileges. While we still recommend applying the available patch as it does mitigate some facets of this vulnerability, however, the patch doesn't fully mitigate the leaked proof-of-concepts (PoC's). As a result, we also recommend disabling the Printer Spooler service manually on all Windows domain controllers.
Datashield is also currently creating rules and alerts to detect this exploit and will be deploying detections. Further details from Microsoft on the patch can be found below.
Microsoft Patch Information:
If you have any questions regarding this vulnerability, please contact us below.